FREE SHIPPING ON ALL USA ORDERS. NO MINIMUM REQUIRED.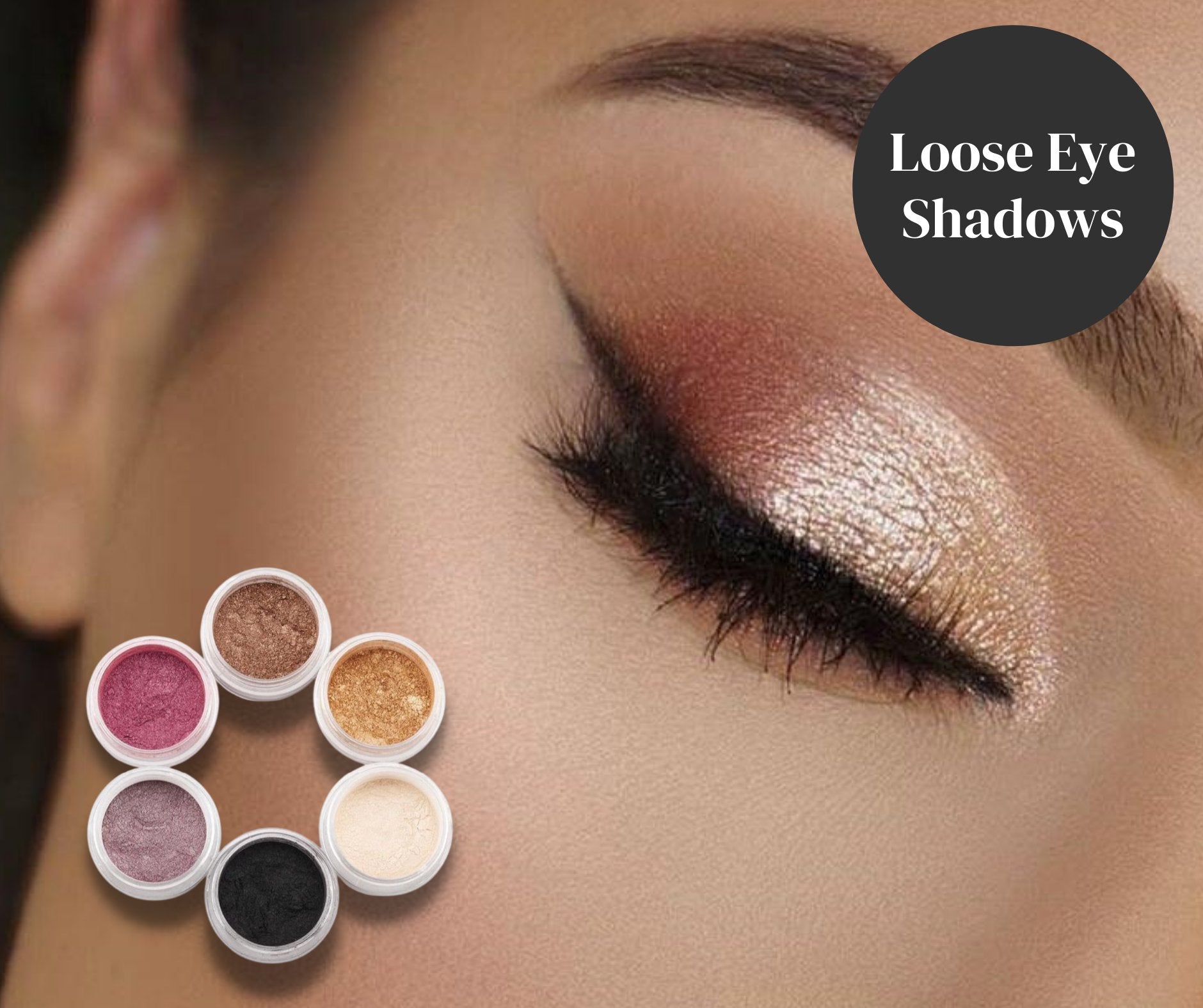 100% Pure Mineral Loose Eyeshadow
These silky smooth eye shadows are made with 100% Pure Minerals and are beautifully buildable and blendable, for a long lasting crease-free wear. Ranging in a wide variety of rich hues and vibrant colors (shimmer, matte, or glitter) to create the most natural, sophisticated, or glamorous looks. Perfect for all eye colors. Free of talc, oil, parabens, gluten, fillers (like rice powder), and Bismuth.
BENEFITS ● 100% Pure Mineral Loose & Pressed Eye Shadows ● All day wear ● High Performance ● Healthy & non-comedogenic ● Flexible uses: eye shadow, highlight, lip color, or eye liner ● Gluten free ● 100% Pure Mineral Shadows ● Free of nasties and unnecessary additives

APPLICATION TIPS ● To apply mineral eyeshadow: Apply Eye Primer Matte FX to lid, crease and up to brow bone to prepare for loose or pressed shadow pigments.
Dip an eye shadow brush into the eye shadow color of choice, and tap off excess on the lid of the jar.
A small amount of mineral eyeshadow on the application brush goes a long way. With the flat side of the eye shadow brush, lightly pat the color onto your eyelid, starting from the outer corner and working your way into the crease of your eye, nearest your nose.
Blend and build as needed for desired look.
○ Apply with a damp brush for an amplified color pop. 
● For custom uses:
○ Use Loose Mineral Eye Shadow with our "Organic Lipstick Base" to create a customized lip color.
○ Use with clear nail polish to create a custom nail polish.
○ Add to body cream to create a body shimmer.
○ Use with hair spray/gel to create hair streaks.
● All of Pure Colors' mineral eyeshadows can be made into eyeliner for either a smudged natural, or defined look.
The eyeliner can be achieved 3 ways;
1) Dry : provides a more natural look To achieve this, simply 1. Dip your eyeliner brush into the mineral eye color 2. Apply to upper and lower lashes
2) Wet: A liquid eyeliner that provides a more defined look The look can easily be achieved 1. Use a thin eyeliner brush, or mini angled liner brush and dip into water 2. Dip the wet brush into the mineral eye color 3. Mix on your hand for an even consistency, or apply directly to the upper and lower lashes
3) Liquid eyeliner sealer: Provides a more defined look that is smudge proof, and will last all day long. The look can easily be achieved 1. Dip the thin brush tip of the eyeliner sealer into the mineral eye color 2. Mix on your hand for an even consistency 3. apply to the upper and lower lashes.
PARTNERS WITH ● Eye Primer Matte FX
PURE FACT Mineral makeup only needs Mica & Titanium Dioxide as a sun filter as it is the purest form in makeup. Ingredients you may see added to pressed or loose powders are simply to fill and take away the high performance nature of the product. The addition of oils to powders creates an expiration date and a preservative will be added, this usually contributes to clogged pores. For these reasons we use minimal, safe, efficacious ingredients to help you create your best looks.
1.5gm